ArcNames. Individuals, social identities and archetypes – the oldest Scandinavian personal names in an archaeological light is a research project led by Dr. Sofie Laurine Albris and hosted at the University of Bergen. On this site you can follow the project activities.
The project is an Individual Fellowship funded by the European Union's Horizon 2020 research and innovation programme, under the Marie Skłodowska-Curie grant agreement No 797386.
Dr. Sofie Laurine Albris
I am a Danish archaeologist, working with Late Iron Age and Viking Age Scandinavian identities, landscapes, mythologies and ideologies. I have a specialisation in the combination of archaeology and onomastics. Currently, I hold a Marie Skłodowska-Curie International Fellowship at the University of Bergen, and live outside Bergen with my husband and our two small children.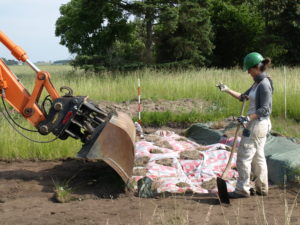 My research
In the last seven years, the main focus of my research has been landscapes and settlement patterns in 1st millennium South Scandinavia. My PhD project was a part of the project Pre-Christian Cult Places at the Danish National Museum and cofunded by the Department of Nordic Research at the University of Copenhagen. The subject was the interplay between archaeology and place names around three elite residences from the lron Age and Viking Period in Denmark: Gudme, Tissø and Strøby Toftegård. This project touched upon a wide range of subjects such as settlement history, landscape and ideology, religious practices and sacral sites, social development and landholding, agricultural strategies and natural environment. The thesis is available here.
In the PhD, I was mainly addressing the interplay between the physical and the mental landscape organisation, using a comparative approach to archaeological material and place name material.  Through the research, one particular group of South Scandinavian place names came to be a particular interest of mine: place names ending in –lev/-löv are dated to the period ca. 300 – 800 AD, and I think they are an important key to understanding the development of landholding and social stratification in the Late Iron Age and Early Viking Period. The specifics, that is the first part of the names, are often personal names or personal designations referring to special functions or status, some times military or religious. Working with the lev-names, I often got caught up in the interesting aspects of the personal names of Proto Nordic (1st – 7th century AD) and Viking Age Scandinavia (8th – 11th century AD).  Although these personal names can yield interesting information about identity, mentality and ideology, they are not easily applied in archaeological research. As a source material, they are difficult to handle and therefore mostly accessible to scholars who specialise in Germanic and Old Nordic languages and onomastics. Knowledge from these fields about the personal names and their implications only rarely philter into the archaeological debate. With the ArcNames project, I now have the opportunity to expand my knowledge about Old Scandinavian personal names, and to attempt to understand them from an archaeological point of view. Since my previous work has mostly been with landscapes, the project also gives me the chance to develop my abilities in material studies. I will mostly be looking at iconography, animal styles and selected burial finds, and in the process also gain a better knowledge of Norwegian archaeology in the first millennium AD.
Meanwhile, during my presence at the University of Bergen (UiB), I will employ my experience with place names and my introduction of the subject of personal names into archaeology, to forward an improved dialogue between archaeology and onomastics in Norway. Lately Norway has seen a significant drop in the number of onomastic researchers, and the field has been in danger of dying out. This is now remedied with the Norwegian Språksamlingerne (Language Collections) being re-established at UiB, where a new research environment around language history and onomastics in particular is built. I see my affiliation with Archaeology at AHKR as a contribution to the onomastic environment at UiB and to facilitating cross-disciplinary as well as inter-Scandinavian discussions.